Hello beautiful friends!
I hope you all have been having a wonderful week so far. I know personally, I am feeling so great due to the beautiful spring weather and my 22nd birthday being next week on Tuesday! Everything has been looking up lately, which has been such a refreshing change of pace so you can say that I am in a pretty good mood. I received my FabFitFun spring box last week and I have been using the products the past few days in order to give you all the best and most thorough reviews that I can give. Honestly, I loved everything I received in my box!
Deux Lux Demi Backpack ~ $75
This was one of my fabulous add ons and I have to say I am very happy with my decision! It is a cream canvas backpack with vegan leather straps. I chose this addon because I thought it would be perfect for travel and a unique new accessory to add into my closet. I am 100% obsessed with this backpack and I recommend you give the Deux Lux brand some love!
Korres Wild Rose Vitamin C Brightening Facial ~ $48
I have been non-stop using this facial cream before bed ever since I opened the box! It is a brightening cleaner facial that you can throw on before bed, wake up, wash it off, and reveal radiant skin in the morning. As most of you know, I have struggled with acne so I am always very particular about what I apply to my face. This cream facial is meant for all skin types and doesn't irritate the skin, which I absolutely love! 10/10 would definitely recommend.
Giiadzy Copper Plated Measuring Spoons ~ $15
These adorable copper plated measuring spoons were another one of my free add ons for my spring box and I am super excited to incorporate them into my future home decor! I stepped outside my typical wheelhouse and decided to pick these spoons
The2Bandits Athens Necklace ~ $30
Anyone who knows me knows how much I absolutely love simple jewelry and this necklace fits my style perfectly! It is this adorable silver, opal bar necklace and it literally goes with everything in my closet and is the perfect accessory to wear every day.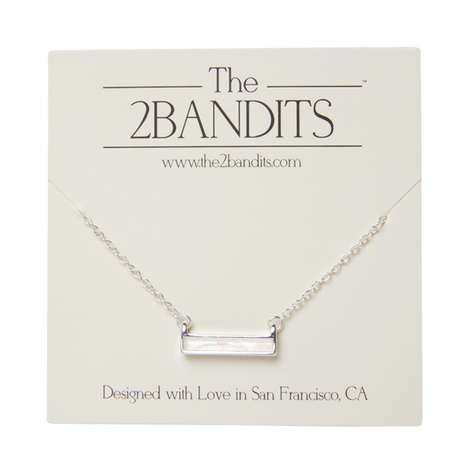 TULA Purifying Face Cleanser ~ $28
I have been using the same Mary Kay Clearproof cleanser for the past 8 years and this TULA cleanser I received has to be one of my new favorites! It smells great and doesn't irritate your skin when you apply it. It is supposed to remove any excess makeup on your skin, purify and moisturize your skin, which I can honestly say that it does just that. I have incorporated this product into my nightly routine and it's perfect!
Manna Kadar Champagne Characol Body Scrub ~ $34.95
I have always had a slight obsession with body scrubs and this one feels absolutely amazing. I used it on my legs after shaving and I have never felt anything more smooth! It smells amazing and it does not irritate the skin. It is formulated with charcoal and Dead Sea minerals in order to remove any dirt from your skin. 10/10 would absolutely recommend!
OUAI Leave in Conditioner ~ $26
Ouai has always fascinated me with their amazing hair products so you can assume I was very excited to receive their leave in conditioner! I have been using it every day after my shower to detangle my thick hair and keep it smooth throughout the day. It smells like a high-end perfume, which I love and it protects my hair from any heat damage. If you are looking for a new hair product to try I absolutely recommend this product or any of the many products that OUAI offers!
Dr. Brandt No More Baggage Eye De-Puffing gel ~ $24
This product has actually changed my life. I have such a problem with puffy eyes and dark circles in the morning (it's genetic) and this eye de-puffing gel has solved my problems with it forever. It is this peach colored cream used in order to smooth and tighten the baggage under your eyes! It works wonders and I will definitely be incorporating this product in my morning routine from now on.
That's all I have to share with you all today! I hope you consider purchasing one of these boxes because honestly, they are so incredible. If you are considering purchasing a box, you can use my link (https://t.fabfitfun.com/aff_c?offer_id=13&aff_id=9686) to get $10 off your first box! You can cancel your membership at any time and you can even skip seasons if you would like as well. I highly recommend you give them a shot and I look forward to hearing about all the wonderful goodies you receive. I will be back on my regular posting schedule starting next week so, keep a look out for new posts. Have a great rest of your week & a fabulous weekend!
Sending Positive Vibes,